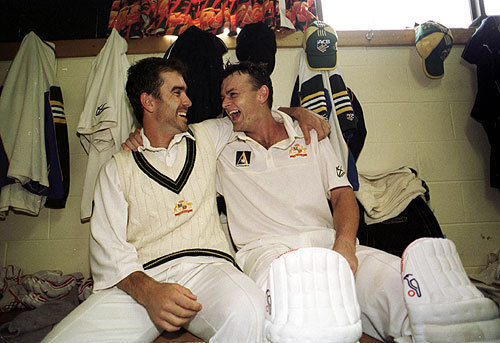 Image courtesy © Getty Images
Australia needed 369 to win the match and they were reeling at 126/5 when Gilchrist arrived. He and Justin Langer put on a sixth wicket partnership of 238 against a dangerous Pakistani attack that consisted of fast bowlers Wasim Akram, Waqar Younis, Shoaib Akhtar, Azhar Mahmood and the inventor of doosra  Mr. Saqlain Mushtaq. That was a short while after the arrival of Shoaib Akhtar who was regarded as "Rawalpindi Express" and many quality players used to struggle against his pace. Also imagine Wasim Akram who has all his hat-tricks in Asia bowling at pace friendly tracks in Australia ably supported by one of the reverse swing greats Waqar Younis. To make the situation worse it was slightly overcast. I remember during the fourth day at stumps, Pakistan had the better of the day and in the next day's newspaper many columnists had expressed their opinion as a precarious task ahead for Australia. Langer injured himself when he got a nasty beamer from Shoaib Akhtar at the start of the innings at 154.3 kilometres per hour, which very few batsmen could negotiate at that time. Finally Australia went on to win the match by four wickets. Langer got out when Australia needed only five runs to win and Gilchrist remained unbeaten on 149. Justin Langer was adjudged as player of the match for his 59 and 127.
The Australian team captained by Steve Waugh and later Ricky Ponting was incredible. Only the great West Indies team of the seventies and eighties could match them. I remember Chris Cairns of New Zealand had once said, even my mom can lead the Australian side. That was the abundant talent the players had possessed. Even a second string team could dominate the opponents.
Like many others, I also used to think a contest between the Australian team led by Steve Waugh and Ricky Ponting, and the great West Indies team led by Clive Lloyd and Viv Richards who were a nightmare for the opponents. These two teams could simply handle all arrows from a repertoire. When they had their heydays even the second best team was miles farther.
When Kapil Dev recorded his best bowling figures against the West Indies by taking nine wickets in a test innings in 1983 at Ahmedabad, unlike many other teams India lost the match by 138 runs. Because the fast bowlers of Caribbean were unplayable even on docile subcontinental track. So you literally wonder how can this happen when eight out of ten can't do it.
By number of matches played, the Australian team has the record of winning most test matches and one day internationals in a row. In fact they had won 16 test matches in a row twice and surprisingly on both occasions India had stopped their gallop. Also they had registered a record of 21 consecutive ODI wins which was shattered by West Indies during 2003 in Caribbean, and most consecutive wins for any team in World Cup history. They had not lost a single match in both 2003 and 2007 World Cups. Their emphatic run of back to back ODI victories in World Cup was broken by Pakistan in 2011 World Cup. Australian team's record in World Cup is phenomenal. They had won most matches in World Cup history. They had won World Cup most number of times (5 times). All their World Cup titles had been in different countries and continents. They had faced 5 different opponents in  World Cup finals where they were triumphant and 3 different opponents in two final matches and a knockout stage in World Cup where they were beaten. In 1987 they had won their first World Cup against England at Eden Gardens, Calcutta, India, Asia. In 1999 they had defeated Pakistan at Lord's, London, England, United Kingdom, Europe. In 2003 they had defeated India at New Wanderers Stadium, Johannesburg, South Africa, Africa. In 2007 they had won against Sri Lanka at Kensington Oval, Bridgetown, Barbados, West Indies, North America. They had won the 2015 World Cup against New Zealand at Melbourne Cricket Ground, Victoria, Australia, Australia. Along with the above finals they had entered in two more finals and a knockout stage and thus making their total entry in the finals and knockout stage to 8. During the inaugural World Cup in 1975 they had lost to West Indies in the final at Lord's. In 1996 they had  lost to Sri Lanka in the final at Gaddafi Stadium, Lahore, Pakistan. In 2011 they were beaten by India in the quarterfinal at Sardar Patel Stadium, Motera, Ahmedabad, Gujarat, India. They had entered the finals and knockout stage of World Cup continuously for 6 times. 1996, 1999, 2003, 2007, 2011, 2015 and the only team to register hat-trick of World Cup victories. 1999, 2003 and 2007.
The great West Indies team didn't lose a single test series from 1980 to 1994, when they had played 29 test series and in terms of dominance in number of years in cricket, they top from 1975 to 1994 for nineteen years. They had beaten England consecutively for ten test matches in two test match series consisted of five matches each, both in England and Caribbean. The "White Wash" in England was ultimately dubbed as "Black Wash" due to their rampaging heroics. Australia had dominated from June 1999 to April 2007. The opponents that Australia had faced were stronger than the West Indies'. West Indies is the first team to enter three consecutive finals in World Cup. 1975, 1979 and 1983, all at Lord's, England. Can anyone imagine Winston Davis of West Indies who took his career best bowling figures of 7/51 against Australia in the 1983 World Cup, is warming up the bench in the knockout stage, when the then captain Clive Lloyd evaded him to put the best playing eleven. The thunderbolts he had delivered 33 years ago is featured in the top ten, among the best one day international bowling figures ever recorded even now and he is the first bowler to take a seven-for and only few bowlers had achieved the seven-for landmark afterwards. That record remained unbroken until 1991 when Aaqib Javed of Pakistan leapfrogged it against India at Sharjah. Interestingly in that match Sachin Tendulkar recorded his first golden duck in ODIs. Perhaps the humility and mannerism of the great West Indies team is something that should be noted and it stands out besides the skills they had shown on the field.
According to me Australia and South Africa are two teams who were never shambolic over a considerable longer period.
In fact this is just a fulcrum about a few legendary players and a legendary team of their own. If one needs to make a comprehensive analysis of them and their team like many more international and domestic matches played and other whereabouts, surely many more papyruses will be fretted.
According to me the Australian team will have the upper hand, if they take on the great West Indies team due to their better strength in some areas that the latter lagged. Number one they had Shane Warne who will get turn and can take wickets on any track. Number two they had Adam Gilchrist who is regarded as the first genuine aggressive wicket-keeper batsman. And finally number three their middle order was a bit stronger.
Well well, who knows.
Series – Pakistan tour of Australia, 3 Match Test Series, 2nd test
Year – 1999
Venue – Bellerive Oval, Hobart
Date – 18-22 November, 1999
Result – Australia won
Margin – 4 Wickets
Player of the match – Justin Langer
Series won by – Australia
Margin – 3-0
Player of the series – Justin Langer
Written on September 2014, modified on August 2016