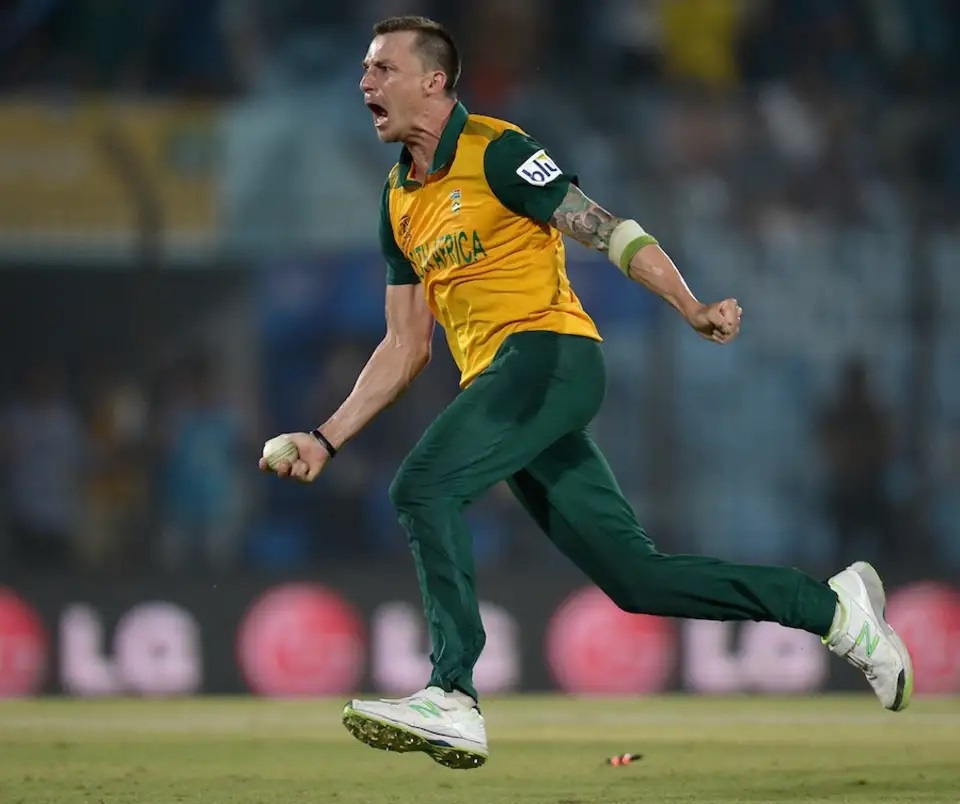 Image courtesy © Getty Images
I am sure most people agree that bowling in T20 matches is a challenge. So definitely bowling against a very strong batting line-up in a batting friendly sub-continent track during death overs is a really difficult task.
Out of the so many remarkable performances by Dale Steyn, I admire this bowling the most. Because it was against a strong batting line-up of New Zealand in Chittagong and the target was not difficult in a batting friendly track. I still could not figure how Steyn pulled out a victory from the jaws of defeat, especially when he was never used to bowling more on Asian tracks. It is still an arguable topic when it comes to performance of faster bowlers in unfamiliar conditions. Very few could deliver on unfriendly bowling tracks. Certainly Glenn McGrath, Malcolm Marshall, Wasim Akram and Allan Donald could deliver on any track.
I remember Allan Donald was rightly adjudged as man of the series for his 17 wickets from 7 matches in the 1996 Titan Cup, because he was phenomenal on Indian tracks which he was not accustomed to. Another similar situation is Malcolm Marshall's thunderous performance in 1983 when West Indies toured India where he picked up 33 wickets from 6 test matches. I do not know what makes these legends deliver on places that they are not familiar with. Certainly it is not luck, and it is not accidental either. Of Course these players practice a lot relentlessly, then they were immensely gifted too.
I remember Courtney Walsh giving bowling tips to pupils and he says about gripping the ball cross seamed. And that should be a surprise package to extract more bounce. But surprising batsmen with too many deliveries in an over is an art. When Shaun Pollock retired during 2008, I really felt sad as he still could have played at least till the next World Cup. And the same situation happened in 2013 when Jacques Kallis called it a day. I thought Kallis could have played till 2015 World Cup. Steyn was another player that I wanted to represent South Africa for a little more years. But sadly he retired at a relatively early age when he was still unfinished. I will have to stay their decisions were a little prematured when they still could have gone a long way and offered so much, representing their country proudly.
Steyn's run-up, bowling action, pace, bounce and charging were too good on any ground. Also he was one of the few faster bowlers who had used the bowling wrist too effectively.
It would have been an interesting question if Steyn had to bowl to Viv Richards and Adam Gilchrist during their peak time. I will not say the bowler or the batsman in question respectively will dominate the other every single time, but it will be even across battles as rightly pointed out by Mark Nicholas so many times when he had answered the great battles between Viv Richards and Malcolm Marshall in English County cricket, when Nicholas had the privilege to proudly witness so many matches as a player, captain and spectator.
Series – ICC T20 World Cup, Bangladesh
Year – 2014
Venue – Zahur Ahmed Chowdhury Stadium, Chittagong
Date – 24th  March, 2014
Result – South Africa won
Margin –  2 runs
Player of the match – JP Duminy
Series won by – Sri Lanka
Player of the series – Virat Kohli
Written on 15th April, 2022