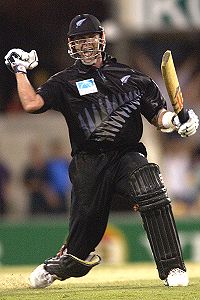 Image courtesy © Getty Images
I have always been a fan of New Zealand cricket team. And that started ever since I started watching cricket. Over a period of time since the earliest days of my interest in New Zealand cricket team, I came to know about many more players of the Kiwis from the past. But one player that I always wanted to follow whenever New Zealand played is none other than Christopher Cairns.
This knock is one of my favourite knocks of all-time. When that was played against South Africa in Australia, it becomes much more impressive. New Zealand were tottering at 73/4 when Cairns arrived and in a few while they again slumped to 98/5. Actually I was not interested in watching the match since there was no hope for a victory to the Kiwis. But I knew that Cairns had the potential and he can go for some powerful hitting. Also I remembered the match winning knock of 102 by Cairns against India in the 2000 ICC Champions Trophy final at Nairobi, Kenya. As a 16 year old, being laidback, I found a place in my sofa, the place where I always found pleasure in watching many favourite shows, to watch this match. And Cairns did not disappoint either. He took on a very strong South African bowling attack and punished. Allan Donald did not play this match for which I do not know the reason. After a few hours Cairns handed a 4 wicket victory to his team with 5 balls to spare. Chris Harris and Adam Parore too ably supported him by scoring 24 and 21 respectively. Very rightly Cairns was awarded man of the match for his 102 not out, 2 wickets and 1 catch.
During my school days, my friend who is a Chartered Accountant now and is in Sydney at present, used to show Cairns' bowling action and make me guess who the person is. And I would observe that keenly and say rightly. Later I noticed Cairns' bowling action was a little bit similar to Richard Hadlee's while raising the bowling arm. Cairns was a very powerful sportsman with broad shoulders and strong arms. But he was plagued by many injuries which prevented him from representing New Zealand for a longer period. In my opinion had Cairns not suffered many injuries he would have definitely become one of the greatest fast bowling allrounders of all-time like Ian Botham, Kapil Dev, Richard Hadlee and Imran Khan, when he retired.
After seeing the 2001 music video "ain't it funny" by Jennifer Lopez, I even compared Chris Cairns with Eduardo Verastegui and said this to my schoolmate. Because the sideburns and hairstyle of Eduardo in that video from a few angles had very close resemblance to that of Cairns'. But after hearing my observation my schoolmate said no. I also remember a few really good deliveries Cairns bowled  to Sachin Tendulkar in the 1998 Nidahas Trophy where Sachin was beaten. Cairns was also very aggressive against Shane Warne. When Cairns broke Viv Richards' record for most number of sixes in test matches during New Zealand's tour of England in 2004, which was Cairns' last test series, I even called a friend of mine and asked him to watch the match. That was my passion for cricket, favourite players and game-changing moments.
In my One Day International team with all-time greats, I wanted to include Mahendra Singh Dhoni at number 5 or 6 to do the finisher's role, but since Adam Gilchrist will open with Sanath Jayasuriya there is no room for another wicketkeeper batsman. Then I wanted to include a hard hitting fast bowler and I was thinking between Chris Cairns and Lance Klusener. But Cairns had given more victories to New Zealand in crucial stages of tournaments than Klusener to South Africa. So I decided to select Cairns as the finisher who can come at number 6 or 7. The only contender that Cairns may face in my dream ODI playing 11 while batting down the order will be Abdul Razzaq.
Series – VB Series, Australia
Year – 2002
Venue – Brisbane Cricket Ground
Date – 19th  January, 2002
Result – New Zealand won
Margin –  4 wickets
Player of the match – Chris Cairns
Series won by – South Africa
Player of the series – Shane Bond
Written on 20th June, 2021