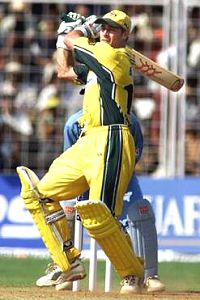 Image Courtesy © Getty Images
Batting average is something cricket viewers have been pondering whenever they watch or talk about cricket. An average in excess of fifty is considered really good in test cricket and for one day internationals anything in excess of forty is good.  But an average which is very high make it exceptional. Like sixty plus in tests and fifty plus in ODIs.
At a time when few batsmen had forty plus average in ODIs and very few had averages that touched mid forties only Michael Bevan of Australia had an ODI average of fifty plus consistently. When we consider the time Bevan represented Australia, it makes really outstanding. I always admired Bevan's average like his technique, composure, fitness, running between the wickets and finisher's role.  Due to the easier ODI rules now, we see more batsmen having fifty plus average.
We friends used to talk a lot about Bevan's batting average during our school days. And the remembrances go on and on as always. Bevan's 185 not out against Asian XI when he represented World XI in 2000, his last ball four against Roger Harper to take Australia to victory in the Benson & Hedges World Series at Sydney in 1996, his slow left arm bowling, his knocks against England and New Zealand respectively in the 2003 World Cup, he used Puma bats like Adam Gilchrist etc. But what particularly struck me is his role in India on three different occasions that changed the complexion of a series.
When India, Australia and Zimbabwe played Pepsi Triangular Series in 1998, India had comfortably entered the final after winning all their four league matches. In the final India lost to Australia at Delhi by four wickets with eight balls remaining, thanks to Bevan's 75 not out and 2 catches. His 87 not out against India at Margao in 2001 during the decider of the last match of the five match bilateral series after both teams had registered two victories each was another four wicket victory for Australia with twelve balls remaining. The third one is at Eden Gardens in 2003 during the final of the TVS Cup Tri Series that also featured New Zealand. On a tricky Eden track yet again Bevan delivered and he was not out on 40 when Australia batted first. India could not chase the relatively smaller target of 236 and was all out for 198 and Bevan gifted a victory to the Aussies in the final, this time by 37 runs. I was truly shocked and mesmerized to see all the above said performances of Michael Bevan in entirely different atmosphere for a player who came from Down Under. On three different occasions he took his team to victory in the finals against India from the sight of defeat.
Surprisingly Bevan could not represent Australia in the longer format of the game successfully.
Written on July 26, 2020.