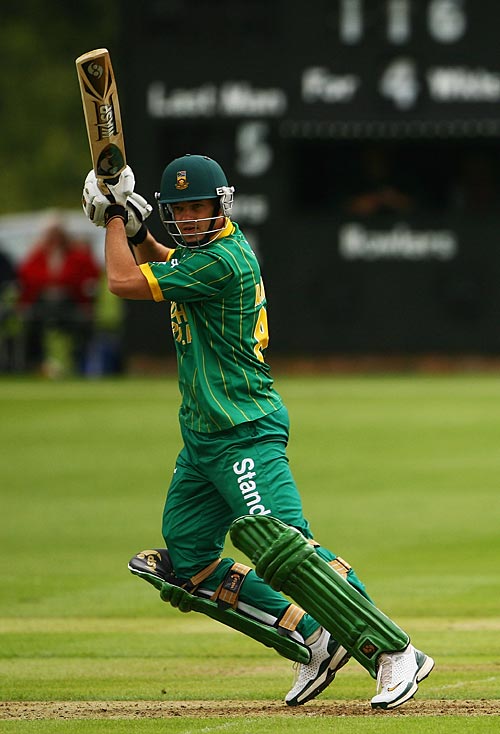 Image courtesy © Getty Images
This match is one of my favourite chases by a visiting team in Australia, and also against Australia. I could see an emerging Albie Morkel who was touted as the next Lance Klusener of South Africa. South Africa had a nail-biting victory. And the commentary of Bill Lawry and Mark Nicholas, with Michael Slater was nothing short of exemplary. Australia was not a weak side either. I never thought South Africa could chase the total successfully when Albie arrived at number 8, but he did it with the help of  a composed Johan Botha who was the skipper.
Actually I was not that much aware or focussed on the ODI matches when South Africa toured Australia during 2008, though I knew the test matches and watched them diligently in between my professional course examinations. Not surprisingly a friend of mine called me when South Africa was cruising to victory at Perth when they needed 414 at the fourth innings. I replied to him – "hey mate I am watching the match already".
I was too sad as Albie could not represent South Africa for a longer run despite his talent. Maybe the proteas could not use his talent good enough to bring more desired results. Or they did not have a think tank who could wisely bring out the best out of him time and again like the captaincy of  MS Dhoni, Shane Warne at IPL, and Hansie Cronje during the heydays of South Africa in the nineties. I still expected a come back for Albie after his disappearance from the international side for a few years. But very strangely that did not happen. Morever, he was not featured in the IPLs too, after his successful performance in the earlier years in IPL.
I still remember the prodigious hitting power of Albie in IPL matches, along with his tight bowling. Albie was very much on the cards as the next Klusener when he smashed Virat Kohli for 28 runs in a 2012 IPL match between Chennai Super Kings and Royal Challengers Bangalore, but like we had witnessed umpteen times in cricket, he could not represent proteas, for a longer and deserving period. He was such a clean, crisp hitter of the cricket ball who could clear even the longer parts of the ground along with his ability as a good bowler either opening the match or coming later. I really wanted and wished his presence in the South African team for at least a dozen of years. But that did not happen. The same was the case when Azhar Mahmood could not represent Pakistan for the time period he deserved, despite being immensely talented.
If I get a chance to visit Australia, visiting Melbourne Cricket Ground will definitely be there in my wishlist along with some of the scenic train journeys and good food. And I want to sit at the gallery and cherish the memories from great matches like this, and many more. But the first thing I want to recollect from the spectator's side is the famous six conceded by Rodney Hogg to Viv Richards during West Indies' tour of Australia in 1979/80 when Richards ferociously deposited a dangerous bouncer from Hogg over the rope, which Michael Holding had described very well in the documentary Fire in Babylon, after Richards being hit by a bouncer, as "and the very next ball he hit it straight out of the ground."
Series – South Africa tour of Australia
Year – 2008/09
Venue – Melbourne Cricket Ground
Date – 16th January, 2009
Result – South Africa won
Margin –  3 wickets
Player of the match – Albie Morkel
Series won by – South Africa
Player of the series – Albie Morkel
Written on 26th March, 2023