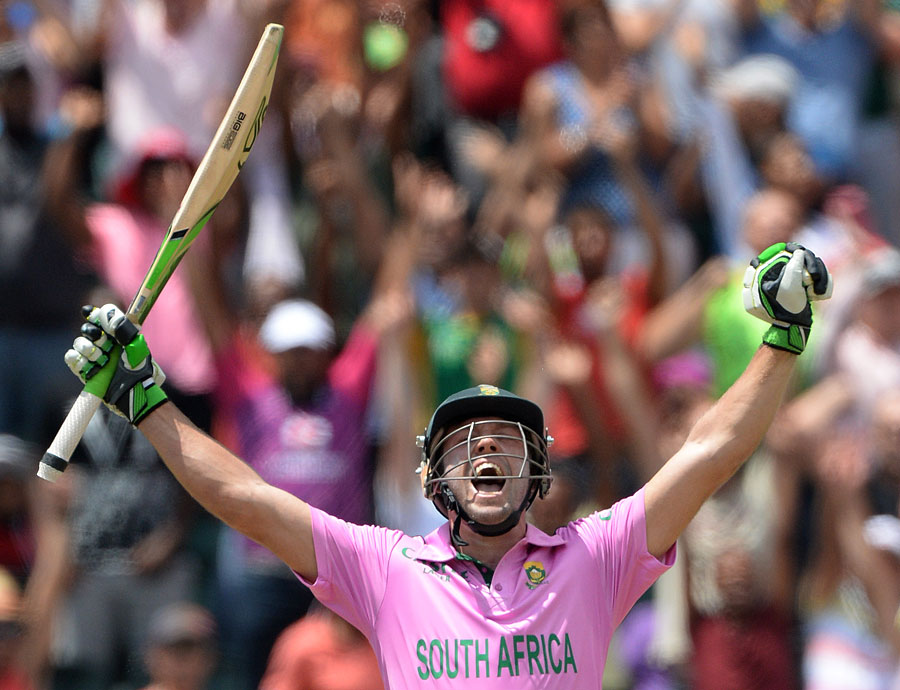 Image courtesy © Gallo Images
I will be lying if I say that Abraham Benjamin de Villiers who is fondly known as "AB" is not a complete batsman. The kind of cricket shots he plays in all formats cannot be played by all. He can play 360 degree of the wicket and that makes him unique. Even before AB had started playing his flamboyant shots, I had noticed his talent.
The first time I had paid attention to his innings was, when he opened with Graeme Smith and scored 92 of 70 balls against a formidable Australian attack during the 2007 World Cup. South Africa were cruising when they needed 370 plus to win the match and they scored 160 for the opening wicket in 20 overs and AB was run out. As we see many times in cricket, the lower order could not capitalize and they collapsed and lost the match. Again they lost to Aussies in the semi final of the same tournament and this time they lost comprehensively. Unfortunately I didn't get the link of that 92 knock of AB.
It is very interesting to watch the match when AB is on the ground. It doesn't matter whether he bats, fields or he does the occasional wicket-keeping. The roaring sound of the crowd in a cricket stadium really wakes me up. It all starts from a dozen spectators, then it reaches hundreds, then thousands and then the full capacity of the people who have gathered. It becomes so attractive when the electronic scoreboard in a packed cricket stadium displays milestones and records that are broken by legends like AB. A very loud standing ovation from the crowd when the huge scoreboard lights up is a real sight for your eyes. It becomes much more special when the venues are historic like New Wanderers Stadium, Melbourne Cricket Ground, Lord's Cricket Ground or Eden Gardens.
When AB started playing he had excelled in many sports and games and he chose cricket. He was in the news, when he once said about the hectic schedule the players have. But why would the cricket boards organize tournaments when their stars want to play 20 over matches around the globe. They earn so much from 20 over leagues and let them earn. When you consider the kind of talent these players possess they deserve more respect. Certainly I am not against test matches which are the fundamentals of all formats and 50 over matches. But the international seasons for players should be organized in such a manner that they don't miss the lucrative deals.
Allowing modern day players to play in cash-rich leagues doesn't mean that they should miss their commitments for the country. Let modern legends of cricket like AB score in all formats around the globe, and let the scoreboards display many records broken. But at the same time a balance between national commitments and 20 over tournaments must be properly fixed.
Many times my friend and me had discussions about South Africa's chances of winning World Cup 2015. He was of the opinion that the Proteas would have lost even if they had defeated Kiwis in the semi final. Because they can't handle pressure like Aussies in a final, if they reach there. But I said when you have AB and a knock like this will certainly change the complexion of the match. The ratio that I offer may not be that convincing, but I am sure that it is better than the 500-1 odds offered by Ladbrokes for an English win, for that famous Ashes Test during 1981 at Headingley when Ian Botham and Bob Willis secured a victory for England after following on.
I remember when AB scored this century against West Indies, the next day many former players had rated this knock as very high and one of those opinions was from Bob Willis who had rated Viv Richards as the best batsman of all-time. After seeing this knock, Willis said AB could well be the best batsman of all-time.
Series – West Indies tour of South Africa, 5 Match ODI Series, 2nd ODI
Year – 2015
Venue – New Wanderers Stadium, Johannesburg
Date – 18 January, 2015
Result – South Africa won
Margin – 148 runs
Player of the match – AB de Villiers
Series won by – South Africa
Margin – 4-1
Player of the series – Hashim Amla
Written on June 2016