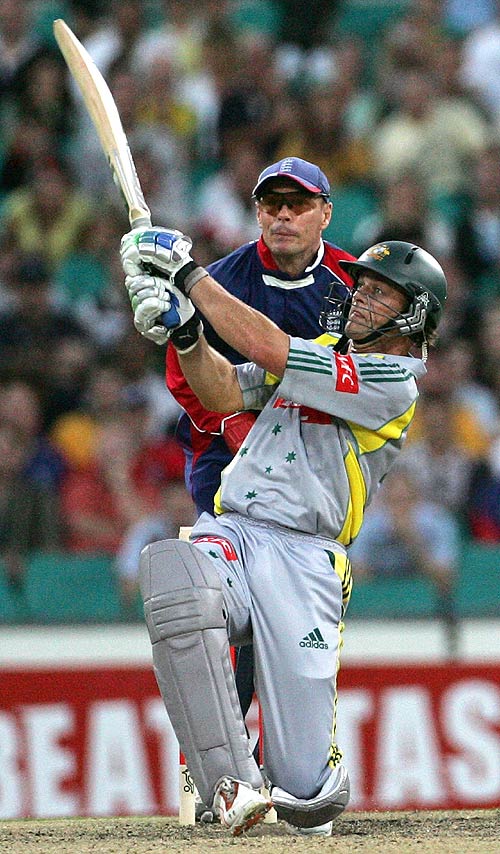 Image courtesy © Getty Images
I always say to my close circle of friends that when you recollect various events, and when you have other important memories connected with what you recollect, then it becomes very special.
This innings of Adam Gilchrist is one among them. It was not only because of the way he played, but there were many other things associated with it. I have so many other things to remember along with this knock of Gilly. Number one I watched this innings from Mumbai and that was the first time I was to Mumbai and it was 2007. I have heard from people so many times that life at Mumbai is so fast and days pass so quickly and I really felt it. We had boarded a train via Konkan for the very first time and since it was a special train in most cases it halted as usual, because the other regular trains including those to very short distances should ply. But someway or other those unncecessary halts really helped us. Because usually in most trains from Kerala via Konkan to the Northern parts of India, you won't be able to enjoy the scenic beauty as most trains will cover the Konkan area at night, except Thiruvananthapuram Rajdhani and a few couple of other trains.
Since our train halted so many times we got the complete picture of Konkan. Early morning on the next day, we reached at the beginning of Konkan railway network and it was a joyous ride for the next several hours as we could really enjoy the trip. It was the first journey with my sister after her first return trip from United States of America and I could see her clicking so many pictures in her new camera. I played music in my Ipod gifted by her and a layman sitting next to me asked me "What is this ?"
I met my future brother-in-law for the first time when I reached Mumbai. He came to our house and had food and just before he left he presented some gift to my mother and hugged her. Me, at 21 years at that time seriously thought I have been seeing my mother for the past so many years and not even a single time she had hugged me and now she is hugging someone after seeing for the very first time.
Also this match was played after Aussies winning the Ashes 5-0 at Australia. In this knock of Gilchrist you can hear him talking to commentators while batting. I think that is the reason why he got out early because he could not concentrate. I had visited many places at Mumbai and I really enjoyed vibrant Mumbai. Even now I ask my friend who had just returned from his Mumbai office to Cochin – Why did you leave there?
Series – England tour of Australia, Only T20I

Year – 2007

Venue – Sydney Cricket Ground

Date – 9 January, 2007

Result – Australia won

Margin – 77 runs

Player of the match – Cameron White

Series won by – Australia
Written on June 2016