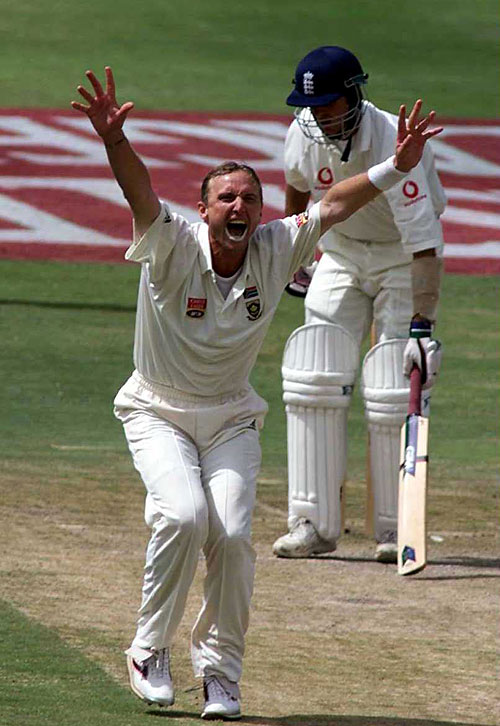 Image courtesy © Getty Images
Allan Donald who was rightly known as "White Lightning" was a complete package in terms of fast bowling. He had pace, bounce, swing, rhythmic action, aggression and "sledging". During the seventies and eighties bowlers of many teams could consistently bowl fast. But during the early and mid nineties there were not many bowlers who could consistently bowl ninety miles per hour and above. Waqar Younis was there. But Donald consistently touched ninety miles and above.
Recently I read an article about Andy Roberts of the West Indies, and he was saying that if the bowlers sledge then they are cowards because when you have the ball in your hand let the ball talk. But I would say Donald talked and so was his deliveries, and it was not because he was coward. Over the years we have seen bowlers sledge a lot but occasionally only batsmen sledge. It would have been interesting if Kohli was facing Donald as we know both of them talk.
During my primary school days my friends used to talk a lot of Donald but I was unfortunate not to witness his fiery spells, because many matches outside India were telecasted in cable channels  and I didn't have a cable connection till June 2000. When I got the cable connection I watched as many old matches as I could, and I could see those heroes in the stories performing remarkably well. My mother strictly objected to a cable connection for me as I was lazy at studies, but ever since we had taken cable connection she has hardly missed out her favourite serials of the regional language.
Donald was so gifted but still could not kiss the coveted trophies like many other talented players of South Africa, because in most major tournaments, the Proteas will lose the battle unexpectedly. In an infamous incident during the 1996 World Cup the South Africans didn't play him and they paid for it. They dropped Donald and went with two spinners and Brian Lara suddenly got his touch and hammered all of them. He was severe on Pat Symcox and scored 22 runs in his one over. I really can't understand why Donald was not picked for that quarter-final, which South Africa eventually lost. During 92 World Cup it was a method similar to the now existing The Duckworth–Lewis Method that had knocked out the mighty South Africans when they needed 22 runs of 1 ball after a rain interruption. And the 1999 semi final between South Africa and Australia is one of the most emotional matches that I have ever watched.
I remember my old friend from Pala and another friend from Cochin talked so much about his impressive action. During the 1996 World Cup Donald bowled a nasty bouncer to Sultan Zarawani of United Arab Emirates and he was hit on his head since he didn't wear a helmet, and Donald said in his autobiography that he thought that he had killed him. On subcontinent his deliveries were too good and on grassy pitches he was lethal. It was a pleasure to see Allan Donald and Shaun Pollock sharing the new ball.
Written on June 2016