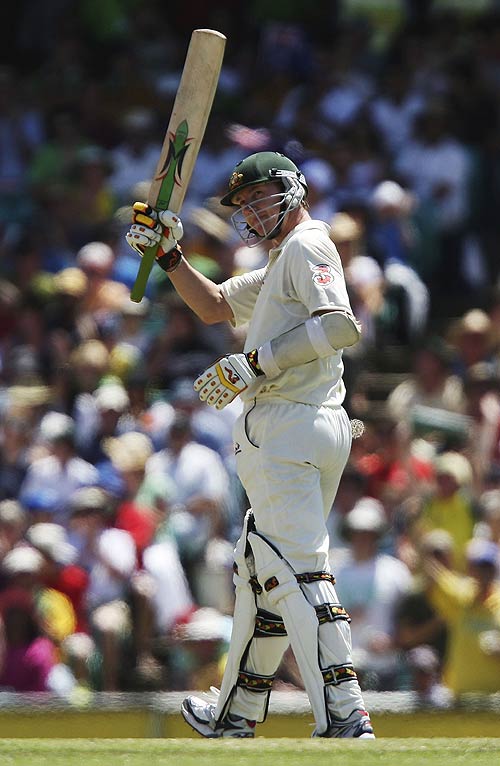 Image courtesy © Getty Images
I always love to watch bowlers batting, especially faster bowlers. They may not always have the flair and trajectory of top order batsmen but sometimes they can raise the bar and take their team through. Also they can hit the ball a long way, even farther than some of their top order teamer. I always watch their batting. It doesn't matter who their partner is.
I remember Javagal Srinath and Anil Kumble taking India through against Australia in the 1996 Titan Cup when India needed 50 odd runs to win after losing 8 wickets. Sometimes their batting can be tensed and even fun. It was a thriller when West Indies defeated Pakistan by one wicket in the third test match in the 3 match test series played in Antigua Recreation Ground during 2000. Wasim Akram's 11 wickets in the match could not prevent West Indies from winning the match when Jimmy Adams partnered Courtney Walsh to take the game away.
Nowadays we see the technology to measure the distance of the sixes hit by batsmen. Even before this technology came I had thought about the distance of the sixes hit by batsmen and I had always loved Brett Lee's sixes. Because he had that extra bit of power even some of the batsmen didn't have. Lee could hit the ball a long way. In fact a long long way.
I will say Brett Lee was more than handy with the bat. I had always loved his batting like the way I loved his bouncers, seamers, slower ones and fielding especially his throws from the deep in larger cricket grounds. I remember a few really good batting performances by Brett Lee. During the 2000 ICC KnockOut tournament in Nairobi Lee smashed Zaheer Khan for a six and the window of a car parked outside the cricket ground was shattered. When India toured Australia during 2007-2008, Brett Lee supported Andrew Symonds by scoring a fifty in the second test match in Sydney when the Australians were in deep trouble. In Ashes he had hit a couple of humongous sixes against faster bowlers. In this match Brett Lee took on a charging Allan Donald at WACA, Perth which is never easy. Donald once held the record for conceding maximum runs in an over by a South African bowler in one day internationals when Darren Lehmann and Brett Lee scored 27 runs in his one over in this match.
Australia won this match. But could not restrict South Africa to a certain score so that the Aussies can also enter the finals. When they failed to so do the Kiwis entered the best of three finals. Jacques Kallis scored a century in this match but only at a slower pace. I was so sad and equally surprised when Stephen Waugh lost his Vanguard and place in the one day team after the Aussies could not make it to the finals. I also remember Ricky Ponting losing his place in the one day team after a couple of poor performances in the 2012 Commonwealth Bank Series. Recently when Australia lost the first two test matches to South Africa in the 3 match test series in Australia, the Australians made six changes to their test squad for the third match of the series. I think all these would not have happened if it were any team other than Australia.
Many times I had thought about the tough selection policies of the Australian cricket team like no other teams'. A very talented Adam Gilchrist made his test debut when he was a few days away from turning 28. Adam Voges who averages next to Sir Donald Bradman is not even in the test team now. Shane Warne who came back to the team after a short while after he inadvertently consumed a medicine which had a banned substance in sports could not make it to the one day international team. The Aussies play tough cricket. They want to win. Many times I had thought about the results achieved by them and I had asked myself. Did they have potions for their success?. No they didn't. Yes they did.
Also I had asked myself Did they have fiefdoms?. No they didn't. Yes they did. But I must say the ingredients of their potions and the success of their fiefdoms comprise of hard work, discipline, professionalism, perseverance, dedication, sacrifice and many more. Perhaps it was first devised by Bob Simpson when no one thought the Aussies will win their first World Cup back in 1987. All these remind me of that famous quote of Ian Botham. Botham had once said "To win in Australia, for me, has to be the ultimate success because the Aussies live for sport".
Well well. I cannot assimilate.
Series –  Australia, New Zealand, South Africa, VB Series
Year – 2002
Venue – WACA, Perth
Date – 3rd February, 2002
Result – Australia won
Margin – 33 runs
Player of the match – Jacques Kallis
Series won by – South Africa
Margin – 2-0 in best of three finals
Player of the series – Shane Bond
Written on 12th February 2017