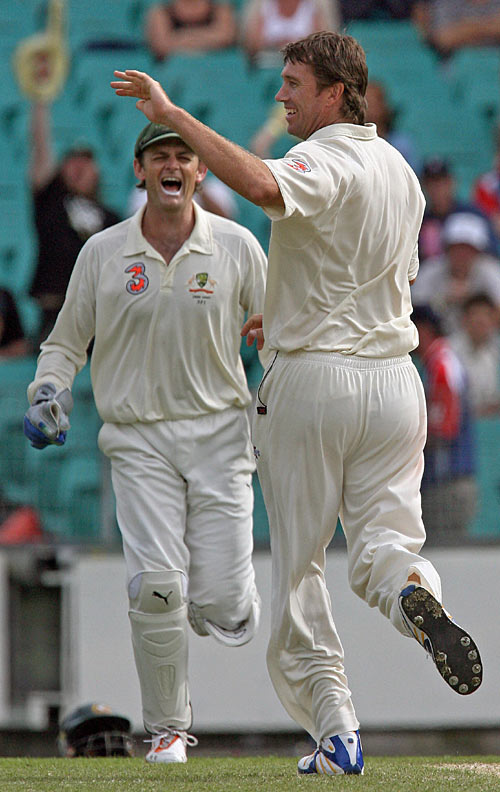 Image courtesy © AFP
If I have to say something about Glenn McGrath's bowling I have to talk about his line and length. He never had a dangerous pace nor he did move the ball prodigiously. But he was so accurate while delivering the cricket ball. I have to say McGrath was the synonym of line and length. More often than not McGrath had the better of even the technically perfect batsmen with his impeccable line and length. His channel outside the off stump had always created a dilemma to most batmen. McGrath was always spot on.
Ever since I started playing cricket I have seen those advices coming thick and fast from even the fielders standing at the far end of the cricket ground that the ball should be bowled around that channel outside the off stump. Because even a reluctant bowler knew that it will be too good for any batsman to handle. Whenever I played cricket, I remember those captains instructing me to bowl outside the off stump and some of them had even marked the area by putting their feet outside the off stump and said "Hey you bowl here". They were too confident that when they instruct me to do so by screaming and even if the batsmen see it, still the batsmen have to prepare well while batting because the area where the ball is about to be pitched is not easy to handle. But at times I had the habit of bowling some rubbish deliveries and make the wicket-keeper and sometimes the slip-cordons and fine leg to chase the cricket ball.
To dismiss technically correct batsmen by inducing a catch to slip or wicket-keeper is never easy.  To make them bowled is also equally tough. I remember McGrath dismissing Sachin Tendulkar and Rahul Dravid during the ICC Cricket World Cup 1999. Both of them were caught by Gilchrist when McGrath bowled that tough channel outside the off stump. I also remember McGrath rattling the stumps of Dravid during 2004 in the Bangalore test. I have a vivid memory of Mark Boucher walking back when he was dismissed by McGrath caught by Matthew Hayden at slips of the very first ball he faced during the semi final of the Cricket World Cup 2007. Justin Kemp who came after Boucher also got the same ball but he left it. McGrath had dismissed Brian Lara, another technically perfect batsman, the most number of times in test cricket.
McGrath always created a tough angle with a very awkward bounce around the off stump. I suppose the best way to handle that is to attack. Because if you defend it will be a catch and I will say that old adage at times said by Bob Willis and Ravi Shastri. If you slash, slash hard because that can carry the ball away from the fielders bisecting them. Or the batsman will have to step out and hit him over his head. Tendulkar had done that in 2000 ICC Champions Trophy.
Adam Gilchrist had taken so many catches in test cricket and one day internationals and there were many catches taken of McGrath's bowling. A high percentage of the catches he had taken were attributable to the amazing line and length the Aussie pace battery had possessed particularly McGrath. What I still rue is making McGrath a bench-warmer during 2009 IPL. Gilchrist had hit Shane Warne a couple of occasions in the IPL. I really wanted to know how Gilchrist would have taken McGrath on if the latter had played the 2009 IPL, especially during the semi final when Gilchrist scored 85 of 35 deliveries. A few people had opined that Gilchrist would have hit McGrath, but I will say it is always a tough question to answer when two great players take on each other. I had read a write-up by Mark Nicholas about a first class match when Viv Richards hit 14 runs of Malcolm Marshall when Glamorgan needed 14 runs to win the match in the last over against Hampshire. I will rate the contest between McGrath and Gilchrist a similar one like the above.  A very fine batsman is taking on a very fine bowler and I will say the result you never know.
To continuously bowl around that off stump channel is a tough task. I have knowledge about batsmen using high speed bowling machines to tackle quick deliveries. They also use various soils to bat on which will help them play test cricket better. Then there are bowlers who play beach cricket. Some of the bowlers use tennis balls also while practising to get their basics right. Perhaps the secret of continuously bowling around the off stump channel is something only the great McGrath could conjure. Like Chaminda Vaas and Shaun Pollock, McGrath relied on skills rather than pace and McGrath's height was always an added advantage for him. Also I will say if Glenn McGrath had to bowl to Vivian Richards and who will win the contest, it will again be a tough question to answer.
Recently I pored over an interview with Viv Richards and Richards was asked the player he would pay for to watch in the 2017 IPL and Richards said it is Chris Gayle. If there is any bowler whom I would pay for to watch in any format of cricket, it would be Glenn McGrath and I won't mind turning an all-nighter to see McGrath in action. We had seen batsmen lifting the bat while reaching a century or a fifty. After that the bowlers started showing the ball to the crowd whenever they take five wickets or more in a match. I think McGrath is the one who had started showing the ball to the crowd after taking five wickets or more. McGrath also has amazing memory in recollecting the mode in which he had dismissed most batsmen throughout his career. He will be there as the opening bowler in my all-time dream teams for tests and one day internationals.
Written on 9th April 2017