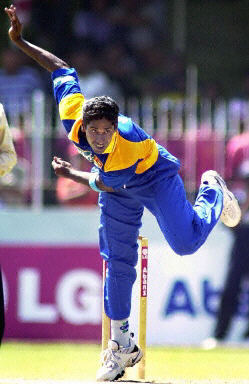 Image courtesy © AFP
Many times we have heard that fast bowling is not all about bowling extremely fast and the bowlers can be successful without express pace. Over the past couple of decades we have been witnessing many fast bowlers who are successful without serious pace. Without any doubt I would say Chaminda Vaas belonged to that category though he had much more pace in the early stages of his career when compared to his later stages in international arena.
Vaas was very clever and deceptive on any track with subtle variations. I had closely monitored his excellent bowling umpteen times. The first time I had observed Vaas bowling was during the 1996 Cricket World Cup. As a tween I was very impressed with his bowling even though I was just learning the basics of cricket and if I had opined at that time, my suggestions would have been imposed an embargo since I was a pupil about the game of cricket. I had heard fast bowlers rattling the stumps of batsmen and the first time I had seen that was when Chaminda Vaas sent Sourav Ganguly's stump cartwheeling during a one day international played by India and Sri Lanka during the 1997 Pepsi Independence Cup at Mumbai. Vaas conceded only 13 runs in his 10 overs in that match and had picked 2 wickets.
In test cricket he had shown his potential as a batsman too. I remember Vaas charging the South African bowlers during the second test match played at Newlands, when Sri Lanka toured South Africa during 2000-2001 and my sister asked me from behind Is this a live match? When India toured Sri Lanka during 2008 Vaas played a crucial role with the bat during the last test match which was the decider in the 3 match test series. Sri Lanka had lost the first wicket quickly in their first innings and Vaas was promoted to number three. He stung around, scored 47 and had a good partnership with Kumar Sangakkara and the Lankans recovered and won the match and series. When Vaas was promoted to number three in that match, my Chartered Accountant friend who now stays in Sydney had said Vaas' role with the bat may play a vital role  as he may stick around and I said no it won't, but I was the loser.
It takes a lot of skill for a fast bowler to be successful on placid tracks if they don't have that extra pace. In that case the bowlers must have other strategies to be competent. Vaas had shown his skills on subcontinental tracks many times. Malcolm Marshall and Wasim Akram had excellent record on subcontinental tracks but they had that extra bit of pace. I will rate Chaminda Vaas as the all-time second best left arm fast bowler behind Wasim Akram.
Vaas once held the record for dismissing Sachin Tendulkar the most number of times in one day internationals. Vaas still holds the record for the best one day international figures when he took the first 8 wickets for 19 against Zimbabwe during 2001. I was surprised to see Vaas' omission from the Sri Lankan squad for the 2011 Cricket World Cup. Vaas along with Sanath Jayasuriya and Muttiah Muralitharan had played a crucial role for Sri Lanka in lifting their first World Cup during 1996. The role of this trio would have been interesting if they had played together the 2011 Cricket World Cup. Vaas' full name is also very interesting to observe. Warnakulasuriya Patabendige Ushantha Joseph Chaminda Vaas.
Series – Coca-Cola Champions Trophy  (Final)
Year – 2000
Venue – Sharjah Cricket Association Stadium
Date – 29 October, 2000
Result – Sri Lanka won
Margin –  245 runs
Player of the match – Sanath Jayasuriya
Player of the series – Sanath Jayasuriya
Written on 27th December 2016