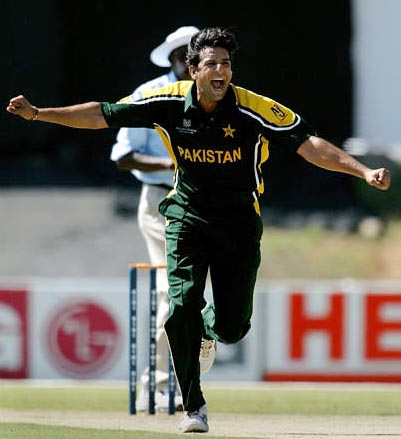 Image courtesy © Reuters
I have always been a fan of swing bowling. And if there is one swing bowler to point out primarily, then without any doubt it will be Wasim Akram. Akram was a complete left arm fast bowler. He had everything and his swing made the real difference. His shorter run-up and quicker arm action made it really tough for the batsmen to pick him.
Even during my childhood he was one of the greatest fast bowlers that people had always talked about and rightly so. I remember seeing Akram's picture on a notebook and asking my classmate who it was and the way in which an English teacher who had an excellent vocabulary admired him. He had fans that ranged across all ages. Sadly, India and Pakistan did not play many matches when Akram was in his peak form, except the tri series, quadrangular series and the World Cups. Throughout the whole nineties India had little bilateral series against Pakistan due to some tough reasons and that was when Akram was at his very best on all places similar to Sachin Tendulkar. But unfortunately we could not witness bilateral series between India and Pakistan at that time period except very few.
A contest between Akram and Tendulkar during the nineties would have been really interesting. I remember Geoffrey Boycott talking about Joel Garner and he said no one really hit Garner. And that was right. But I had seen Imran Khan hitting three sixes of Garner in one over in the 85 Rothmans Sharjah Cup in an old footage. But that will happen to any bowler at some point of time in their career. There were very few bowlers who were really tough to score easily. It was very difficult to score against Akram due to the unpredictable nature of his delivery.
I remember the cricketers saying about the toughest opponents that they had faced in their career, when they retire. And so many batsmen had felt that Akram is the best bowler that they had faced in their career. Along with Curtly Ambrose Ricky Ponting had rated Wasim Akram as the toughest bowler that he had faced. Brian Lara had said he never felt in control when facing Akram, Jacques Kallis had rated Akram as the best bowler he had faced. I remember Ravi Shastri saying that Malcolm Marshall and Wasim Akram were the toughest bowlers that he had faced. Alec Stewart  and Ian Botham had also praised Akram. I think than any other bowler, most players had rated Akram as the toughest bowler that they had ever faced.
Muttiah Muralitharan and Shane Warne had spun the ball prodigiously. Wasim Akram had swung the ball prodigiously. I was so eager to know Akram's opinion about the toughest batsmen that he had bowled to and he had rated Martin Crowe and Adam Gilchrist as the toughest.
I had seen this whole test series when Pakistan toured West Indies during the early 2000, along with the ODI tri series that also featured Zimbabwe. I still remember many important events in this series especially Wasim Akram's performance and a very young Chris Gayle in his earliest part of international career batting down the order in ODIs and test.
It really surprised me when Akram did not get a deserved home series as his farewell. I expected Pakistan to allow him to play a home series after the conclusion of 2003 World Cup. But it did not happen and just three months before turning 37, Akram represented Pakistan in his last international match against Zimbabwe though he could not play since the match was washed out. Akram's 12 sixes in a test innings is the most by a batsman in tests in a single innings and it is still unbroken after almost 22 years. At one point in his career Akram had featured in the list of top ten ODI batsmen with most number of sixes in their career. But he was a useful lower order batsman in tests than in ODIs. The economy rate of 3.89 that Akram maintained in ODIs after playing more than 18 years shows his class. Many people say Wasim Akram is the greatest fast bowler of all-time and I will say Akram is one of the greatest fast bowlers of all-time and he is certainly the greatest left arm fast bowler of all-time. I will rate him as the number one left arm fast bowler of all-time which will be followed by Chaminda Vaas.
Series – Pakistan tour of West Indies, 3 Match Test Series, 3rd test
Year – 2000
Venue – Antigua Recreation Ground, St. John's, Antigua
Date – 25-29 May, 2000
Result – West Indies won
Margin – 1 Wicket
Player of the match – Wasim Akram
Series result – West Indies won
Margin – 1-0
Player of the series – Wavell Hinds
Written on  2nd July, 2018