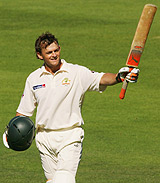 Image courtesy © Getty Images
Once again I have deviated quite well from a conversation and reached at the topic cricket. This time I discussed with my friend about the specified mandatory hours for our profession, the recent launching of new cars and a nice ride in the coming weekend before talking about cricket.
I remember one of my old pals was so impressed with Glenn McGrath, when Australia toured New Zealand during March 2005. Because McGrath was very economical in that match. I was so impressed with the batting of Simon Katich and Adam Gilchrist. After scoring 433 and then reducing Australia to 160/5 and then to 201/6, certainly the Kiwis were right back in the game. But they were on the losing side. Because the Aussie number seven and eight had taken the game away from them in a couple of hours.
We all know how capable was Adam Gilchrist. But this time I was thinking other things about him. Of Course in this knock too he had charged down in his trade mark style and deposited Daniel Vettori over the ropes to the stands for five times. This time I thought about things besides the technique and class. We all know Dhoni is a great runner between the wickets. He had said so many times that when he sees big scores he will have some small targets in his mind. After completing the small target he sets up a relatively bigger target, and finally he achieves the tougher one gradually. I really think about how Gilchrist would have felt when he had seen the big score smiling when his team is crumbling.
When I was watching ESPN'S legends of cricket, Waqar Younis was saying about the aggression of Adam Gilchrist. After dismissing more than half of the batting side the bowlers will think about finishing the game suddenly and then he comes and takes the game away. In this innings he had batted at number eight.
Also when you really admire a person in any field, you think a lot about that person and gathers information as much as you can besides their professional statistics. Like Mohanlal is really fond of antiques, Mammootty shows so much interest in new cars. Dhoni is known for asking his favourite mangoes when India tour the Caribbean. Viswanathan Anand loves fish. I remember during April 2000 when Michael Bevan was adjudged as player of the match for his heroics in a match between Rest of the World Eleven and Asian Eleven, Ravi Shastri asked him what did you eat ? because it was a marathon innings in a one day match. I would certainly think about Gilly's favourite pastime activities and other stuffs like the above during the time when he was playing and also after retirement.
I don't know whether my old pal had noticed about other players' contribution in this match when he was eloquent about McGrath. In this match three players had scored centuries and three others had scored fifties. McGrath had picked up six wickets in the first innings. But in the second innings McGrath had conceded only 19 runs in his 14 overs which is unbelievable on a batting track. Yes we need such type of wickets nowadays for matches. There is seam, swing and bounce for fast bowlers. Vettori and Shane Warne had picked five wickets each in Australia first innings and New Zealand second innings respectively and there was some top class batting.
Today I went to my office in my car, as already the meteorological department in Kerala had predicted heavy rains. When I finished my work and left the office, it was dark and gloomy. Then I started my car and when I had covered a small area, I saw our Barrister in front of our office and I waved my hand. I don't know whether my gesture was recognised. And when I was about to reach my home there were slight drizzles. Then I worked on this writing after reaching home. By the time I finished all my thoughts for this writing, heavy rains were lashing and the conversation with my father went relatively longer, because I had to ask things a couple of times to my father as he could not hear anything due to the sound of heavy rain.
Series – Australia tour of New Zealand, Trans-Tasman Trophy, 3 Match Test Series, 1st test

Year – 2005

Venue – Jade Stadium, Christchurch

Date – 10-13 March, 2005

Result – Australia won

Margin – 9 Wickets

Player of the match – Adam Gilchrist

Series won by – Australia

Margin – 2-0

Player of the series – Adam Gilchrist
Written on 9th June, 2016