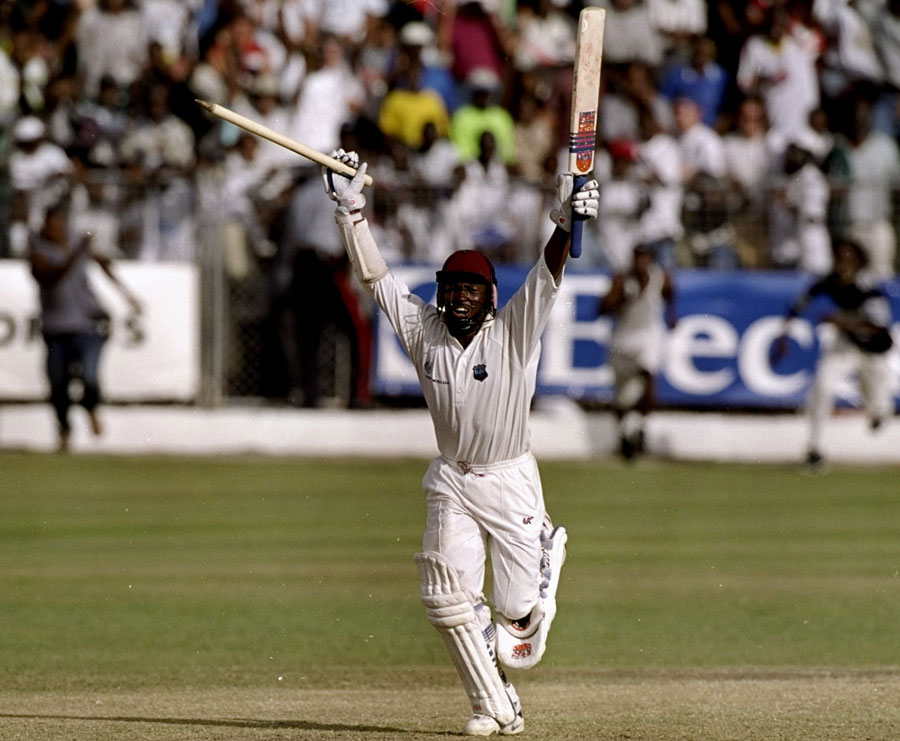 Image courtesy © Getty Images
One of the best nail-biting finishes ever in test cricket. Stephen Waugh's 199, Ricky Ponting's century and Glenn McGrath's nine wickets went in vain as Lara single-handedly steadied the ship. The spectators had witnessed everything from great batting, aggressive fast bowling with pace, swing and bounce, and some wickets for the spinners as well. I won't be surprised if anyone says that, it is hard to spot pitches like that nowadays.
My superior who taught me so much about the basics of work, during my first job used to talk about the backlift of batsmen. He had observed the backlift of Mohammad Yousuf and I used to talk about Brian Lara's. Earlier I didn't know what a backlift was and I had learned that from my classmate, who used to drive his Ambassador car to International Stadium at Kaloor for cricket net sessions.
Glenn McGrath had once said, Lara is the toughest batsman he had ever bowled to. Shane Warne had said Sachin Tendulkar is the best batsman that he had seen of his era and bowling to Lara is also extremely difficult.
Lara's defence of all kinds of bowlers and his jump of the quicks were elegant. He had a very high backlift, but still he could bring his bat down on time when he made contact with the ball.
Series – Australia tour of West Indies, The Frank Worrell Trophy, 4 Match Test  Series,  3rd test

Year – 1999

Venue – Kensington Oval, Bridgetown, Barbados

Date – 26-30 March, 1999

Result – West Indies won

Margin – 1 wicket

Player of the match – Brian Lara

Series result – draw

Margin – 2-2

Player of the series – Brian Lara
Written on July 2016