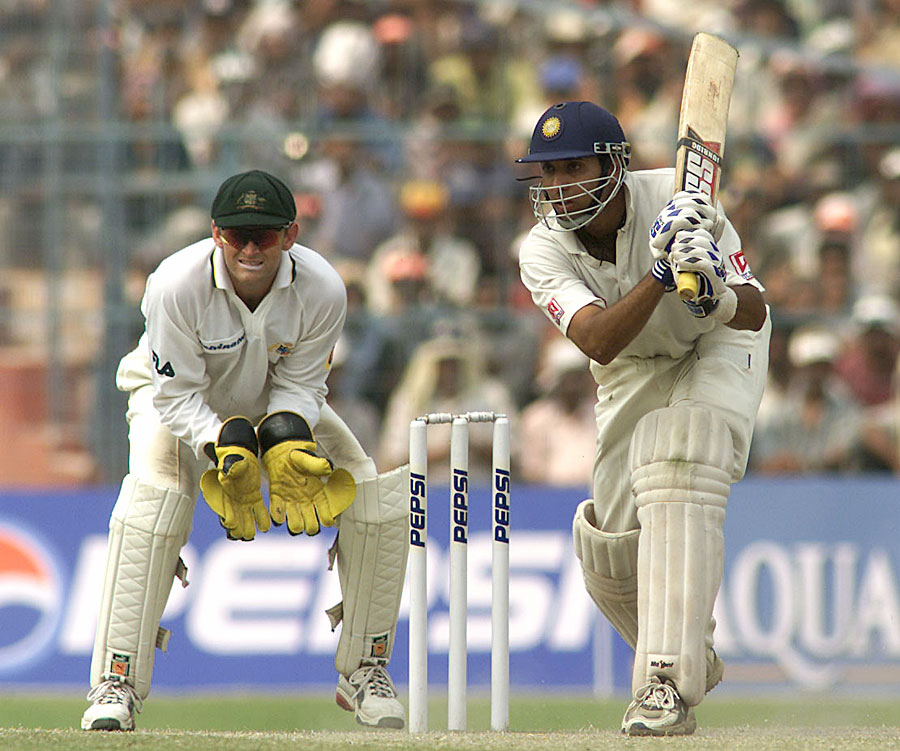 Image courtesy © Getty Images
When India and Australia locked horns at Eden Gardens, Kolkata for the second test match in the three test cricket series, no one would have thought that it would be a historic match. Australia batted first and Harbhajan Singh took a hat-trick, but Steve Waugh partnered Jason Gillespie and Australia posted a decent total. India could not capitalize the hat-trick by Harbhajan Singh and many thought the game is lost until Laxman came up with a marathon innings.
Indian batting collapsed in the first innings and followed on. In the second innings when India lost the fourth wicket the trail was a slender forty two. At stumps on the third day most of us thought the match is over despite Laxman's century. The very next day I went to school as usual and in the evening I remember one of my colleagues who stays in the hostel checked the score, and came back shouting loudly "hey both Laxman and Dravid are not out". He was giving high fives to friends saying that and I made a tough effort to give him high five as I was in the school bus. Like any other teenager I also rushed home soon to witness the match. When I switched on the television all I could see was a nine men bowling unit deployed by Steve Waugh to dislodge the pair and a diving Ricky Ponting near the rope to stop a V.V.S. Laxman boundary. Very seldom you see a bowling combination like that. I remember when Ponting dived, one of the commentators said it would have been a good dive if that was into swimming pool. Except Adam Gilchrist and Steve Waugh, everyone bowled in that match. Steve Waugh had some shoulder problems towards the end of his career. I guess that is the reason why he didn't bowl in that match. Even part timers and irregulars rolled their arms to break the partnership. The partnership was uninterrupted and India scored 335 runs without losing a single wicket on the penultimate day. India scored a mammoth 657/7 in the second innings and declared. Despite being followed on India won the match on the final session of the fifth day. Sachin Tendulkar also came to the party with his wrist spin and picked up 3 important wickets. Besides many important matches what I particularly notice about Eden Gardens is the ever boisterous crowd.
Many of us wished Laxman to become the first Indian to score a triple century. But he was out on 281. We had to wait for 3 more years to witness a triple century. That happened when Virender Sehwag demolished a very decent Pakistani attack in their own den at Multan. He had stepped down and hit Saqlain Mushtaq for a six to bring up his triple hundred which is very rare in test cricket. Sehwag had never faced Saqlain in test matches before that match. That was simply his gumption. Saqlain was into the team after a break and was expensive in his spells.
Only three times in the history of test cricket that a team had lost the match after making the rival following on. If that happens, either the team that asks the other to follow on will win the match most times, or it will be a draw. On all the 3 occasions to lose a test match after asking the other team to follow on was the mighty Australians.
The second infamous incident is none other than Botham's Ashes. Ian Botham was widely criticized after his team's shoddy performance in the first two matches of the six test cricket Ashes series. England were trailing the match 1-0 after the first 2 matches. But he put an end to the sarcasms by winning the third game with both bat and ball. Bob Willis produced a hostile spell of fast bowling to take the match away from Australians. Australia were on course when they were 2 down after scoring 56. He took eight wickets in very quick succession when Australia needed only 130 to win the match. England bounced back after trailing and won the series 3-1. Understandably that series was known as Botham's Ashes as Ian Botham was the cornerstone in the series.
Series – Australia tour of India, Border-Gavaskar Trophy, 3 Match Test Series, 2nd test
Year – 2001
Venue – Eden Gardens, Kolkata
Date – 11-15  March, 2001
Result – India won
Margin – 171 runs
Player of the match – V.V.S. Laxman
Series won by – India
Margin – 2-1
Player of the series – Harbhajan Singh
Written on October 2014