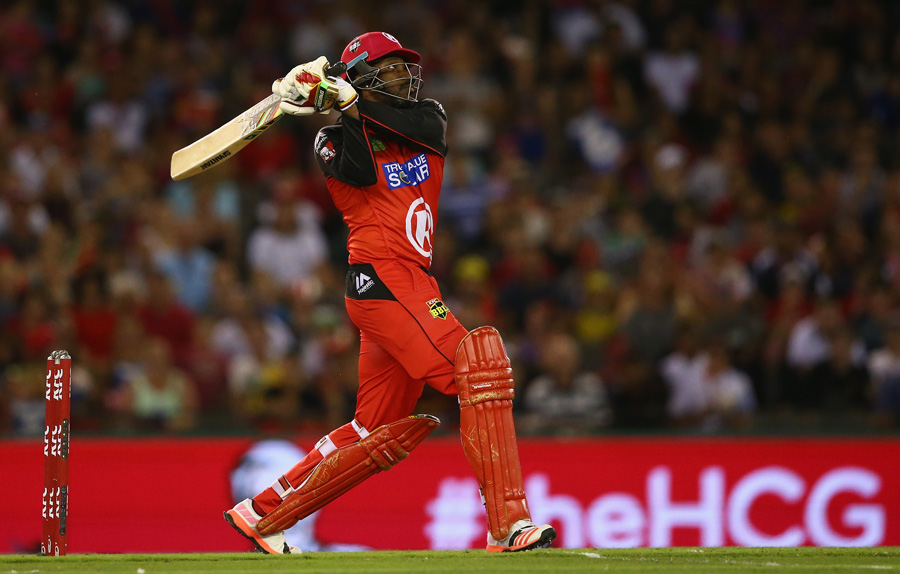 Image courtesy © Getty Images
I certainly can't remember when did the game of cricket start witnessing an imbalance in rules between bowlers and batsmen. Probably it was when Twenty20 became popular. But I certainly can remember when did I start thinking about the size of the bats for batsmen in cricket. It was during the early 2000s.
In any game where many players of different genres participate the rules should always be balanced. Otherwise the contest will be one-sided and monotonous. Nowadays hardly we see the crowd holding placards displaying the name of bowlers and screaming. Now we see spectators shouting the name of their favourite batsmen while having the fritters and sipping aerated drinks. Even a person who had learned the gentleman's game in the last fortnight wants the batsman to hit the ball to the farthest part of the stadium and even to orbit.
Gone are those days where batsmen took more time to break records in any formats in cricket. I remember Vivian Richards' record for scoring the highest runs in a one day international match remained for almost 13 years when Saeed Anwar broke it. And Anwar's record had remained for almost another 13 years when Sachin Tendulkar broke it. I had watched both Anwar's and Tendulkar's knock live, but not Richards'. It was not because I was not interested in watching Richards batting, but I was not born when Richards single-handedly demolished the English bowlers in Old Trafford, Manchester on 31st May, 1984. But now within a very short span of time batting records are getting broken. Even WACA at Perth and Kingsmead at Durban which were once lively for the faster bowlers are its pale shadow now.
If the size of the bats and other such rules for batsmen still keep on getting relaxed, then a day will come when a batsman in a 50 over match scoring 300 plus and his team posting 500 plus. Similarly a day in a Twenty20 when a batsman scoring 200 plus and his team posting 300 plus is also not far. Nowadays, a team's score in 20 overs is similar to what many teams used to score in 50 overs. I think that is the reason why Mitchell Starc was rightly adjudged as player of the series during the 2015 World Cup despite many batsmen breaking so many records. Because he did an excellent job on a track where most batsmen including those who did the role of second fiddle thrived.
There are many famous matches that were won by teams defending their meagre total in 50 overs. I remember Sunil Gavaskar remembering his old days so many times in the commentary box. Many times he had recollected India defending their paltry 125 against their arch-rivals Pakistan in Sharjah in 1985. Imran Khan took 6 wickets when India batted first and Pakistan had to come on to bat even before the scheduled break as there was so much time left since India were bundled out for a small score. But India successfully defended their modest score and won by 38 runs. Gavaskar took 4 catches in that match. Also I remember Indian bowlers successfully defending their 179 against Sri Lanka in Sharjah during 1998. But I really wondered when South Africa won the final of the Standard Bank Triangular Tournament against England in Johannesburg in 2000. I had watched the Proteas' batting and they were all out for 149 in 45 overs. I had watched the Proteas' batting from my mother's house and I had to travel back after that and hence I could not watch England batting. But I literally wondered when I read South Africa's 38 runs victory against England  in the next day's newspaper. Now hardly we see matches like those due to the imbalance in rules for batsmen and bowlers.
Earlier if a team had sored 300 plus in a one day international while batting first, then it was quite certain that they had won the match. But that is not the present scenario. Batting records are tumbling faster than never before. I don't know which establishment fixes the rules in cricket. But I strongly feel that there should be balanced rules for both batsmen and bowlers. Recently we had seen so many records getting broken when India took on West Indies in a T20I in Florida.  Now England holds the record for a team's highest total in 50 overs. Doctored pitches and rules for batsmen will make cricket less interested.  If rules still continue to be more favourable for batsmen in terms of the size of the bats and other such things, certainly it will do more harm than good. If I have to give my resolution in favour of balanced rules for bowlers and batsmen, I would give it with pleasure and even if I have to give this for a tubthumping mode, I won't infract even to the slightest degree.
Written on 25th September 2016