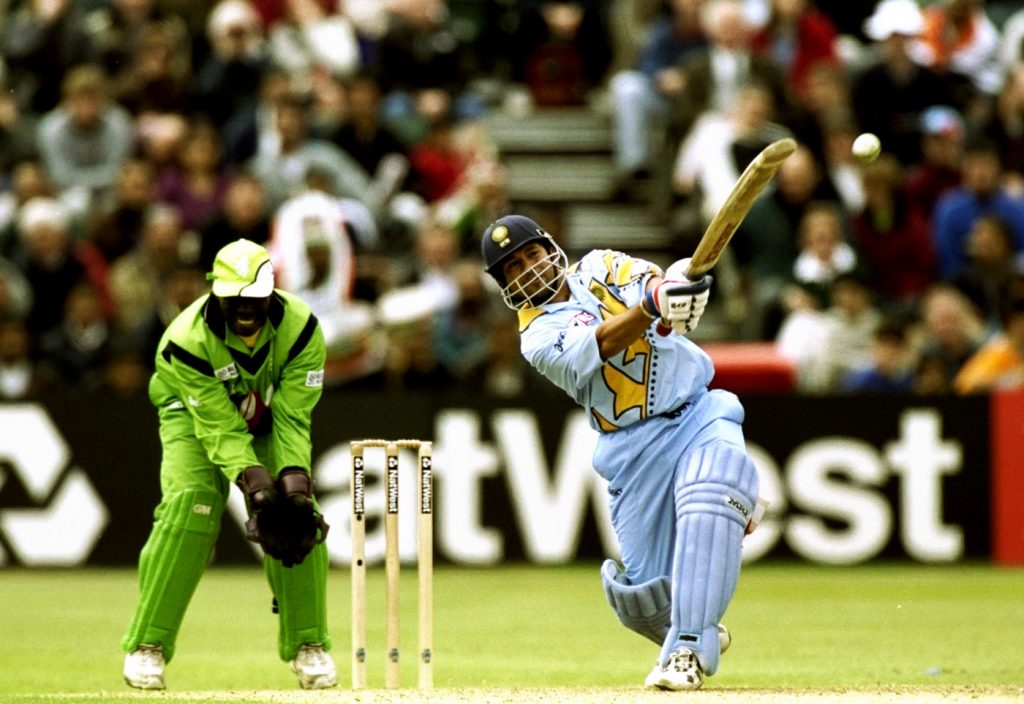 Image courtesy © Getty Images
Ever since I started watching cricket Sachin Tendulkar's name has been discussed by people with immense pep. Now, even after his retirement the trend still continues. In a career that spanned over two decades Sachin had played so many great knocks and there are so much to remember from those knocks.
I have many things to reminisce about him from those experiences shared by so many legendary cricketers and those matches that I had watched him play over the years. As a teenager when Sachin made his test debut against Pakistan in Karachi, the same match when Waqar Younis made his test debut against India, he was injured by a Waqar Younis delivery, but he still continued playing with grit. Tendulkar was involved in a match saving partnership with Manoj Prabhakar against England at Old Trafford, when India were close to losing a test match. In Sharjah, he had danced down the track and had hit Shane Warne over his head when Warne bowled from around the wicket. He had opened with Sourav Ganguly and later Virender Sehwag in many one day internationals and was involved in so many great opening partnerships. Contrary to Sehwag facing the first ball when Sehwag and Sachin open in one day internationals, Sachin faced the first ball when he took on a mellowed but not adjunct Wasim Akram in Centurion during ICC World Cup 2003. There had been very few instances of Sachin facing the first ball in the Indian batting of a one day international when he had opened with Virender Sehwag. I remember Harsha Bhogle saying this in the commentary box. Both his five-fors in one day internationals had been in my hometown Cochin. Now he is the co-owner of Kerala Blasters.
But I am very much emotionally attached to this knock of Sachin in the ICC World Cup 1999. This knock may not be against the best of bowling attacks. Sachin had to return back to India when he lost his father and he missed India's match against Zimbabwe. I was so sad when I came to know the reason why he didn't turn up for India's match against Zimbabwe. I still remember Shahid Afridi greeting Sachin Tendulkar with a smile when he came back and was there for a practice session.  In the first match Sachin played when he came back from India, he scored a hundred and dedicated it to his father. Many Kenyan fielders had butterfingers and it was so funny to watch them fielding clumsily. Also it was the first time I saw Sachin playing reverse sweep and I don't know whether he had played this shot before and after this match in a one day international. I can't remember to whom Sachin spoke to during the presentation ceremony. It was either Bob Willis or Paul Allott. But both are excellent orators and I pay attention to the commentary of both of them. The commentary of Bob Willis and Paul Allott are somewhat similar and sometimes I fail to identify who is commentating due to the similarity in their Anglian dialect which I really like.
Sachin played this knock against the Kenyans in County Ground, Bristol and only three times Sachin had played in one day internationals in this ground including his first appearance in this match. In the next match Sachin played in Bristol during 2002 after this match, he scored a century against the Lankans. After that during 2007 when India toured England, Sachin played at Bristol for the third and final time and was wrongly given out when Matt Prior took a catch of Andrew Flintoff's wide ball and he was out for 99. It would have been a record if he had scored a hundred in the third match he played in Bristol and it would have been hundreds in all matches played by a player in one single venue.
I have a few other memories to cherish about Bristol though I have never been there. At times my brother-in-law travels to Bristol officially and he informs me of the trips. Many branded confectioneries that my parents bring from United Kingdom after their visits have plants there in Bristol. Also I play one of my favourite house music songs in my german motorcar and that duo hails from Bristol.
Series –  ICC World Cup

Year – 1999

Venue – County Ground, Bristol

Date – 23 May, 1999

Result – India won

Margin – 94 runs

Player of the match – Sachin Tendulkar

Series won by – Australia

Margin – 8 wickets

Player of the series – Lance Klusener
Written on 9th October, 2016