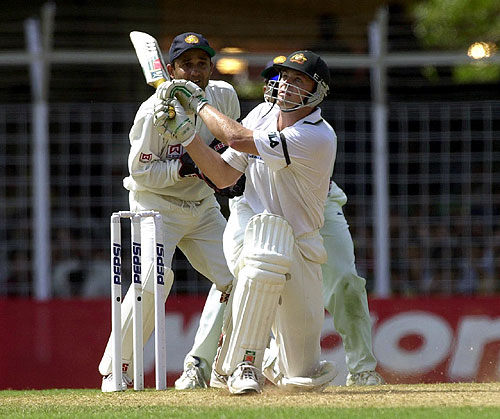 Image courtesy © Getty Images
This knock by Adam Gilchrist is one of my favourite knocks. He played this innings within a year and a little since his test debut. I recollect this innings now because of the constant remembrance by the cricket pundits about the Asian teams' search for victory in test series in South Africa and Australia which is still unprecedented. When the Indian team's recent test tour to South Africa concluded also people have come up with many findings as faults especially in batting. The fingers can be pointed out to many factors. But majority say it is the problem of the territory which is not familiarized by the visiting teams.
If that is the case then how some batsmen from Down Under and a few others of the Proteas did it in the Indian subcontinent. I remember a few such performances by some players from Australia and South Africa in Indian subcontinent in tests. Mark Taylor's 334 in Peshawar, Matthew Hayden's 119 in Mumbai, Damien Martyn's 110 and 161 in Galle and Kandy respectively, Steve Smith's 109 in Pune, Lance Klusener's 118 in Kandy, Gary Kirsten's 100 in Faisalabad, the unbroken 429 stand between Jacques Rudolph and Boeta Dippenaar in Chittagong and all except the first had resulted in victories for the visiting team. Also the outstanding bowling and fielding units of the team when the above batsmen scored their centuries were deciding factors in the victories.
There are some really good knocks by some Asian batsmen in South Africa and Australia too but majority of them have resulted in losses or draws unlike the performances by the above batsmen. For me Azhar Mahmood's 132 in Durban when he took on Allan Donald and Fannie de Villiers comfortably stands out as far as the Asian batsmen's performance in fast and bouncy pitches is concerned. Mushtaq Ahmed also chipped in in that match with his nine-for.
Among the best batting performances by visiting batsmen in India that resulted in victory for their teams, I remember this innings by Gilchrist the most since I watched his batting from ball one. I was waiting for a collapse for the Aussies when they were 99/5. But he took away the match in one session with a run rate of more than six per over. What I think about is the way these players from the visiting team prepare for the matches in subcontinent. Also they were too gifted. If playing well pace, bounce and swing are the benchmarks for a bastman from Asia outside Asia, then playing well turn, bounce and spitting balls from spinners are the benchmarks for a batsman from fast and bouncy tracks in subcontinent. Gilchrist played this innings in his first match of his first international test series tour in Asia and that makes this more memorable.
I really want the Asian teams to win a test series in South Africa and Australia comprehensively. But they reach on the verge of winning a series there and then fade away. And the performance story is profusely spasmodic.
I remember Shane Warne naming his best batting eleven of all time and he said as a batsman the player should be able to deliver by scoring a hundred in three key countries namely England, Australia and India since you find pace, swing, bounce, turn and spit for the bowlers in these places. But I will add South Africa and Sri Lanka too to the above list due to the unpredictable pitches there which can become a nightmare for the batsmen. Gilchrist had scored centuries in tests in all these places.
Series – Australia tour of India, Border-Gavaskar Trophy, 3 Match Test Series, 1st  test
Year – 2001
Venue – Wankhede Stadium, Mumbai
Date – 27-28 February, 1 March, 2001
Result – Australia won
Margin – 10 wickets
Player of the match – Adam Gilchrist
Series won by – India
Margin – 2-1
Player of the series – Harbhajan Singh
Written on 28th February, 2018