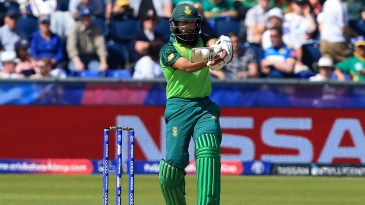 Image Courtesy © Getty Images
If there are cricketers without being power hitters that I had watched and being amazed, then the first person on that list will be Hashim Amla. Amla made batting look very simple with his elegant stroke play. His deft touches and placement were exclusive. Eventhough I remember most matches played by visiting teams in India, I did not notice that Amla made his test debut against India when the Proteas toured India during 2004. The first time I really noticed him was when he broke a few ODI batting records of none other than Sir Vivian Richards.  During the better part of Amla's ODI career he had a strike rate of ninety and an average of fifty five plus which was exceptional.
Amla made his ODI debut late compared to his tests, but the impact he had as an opener in ODIs was huge for his team whether it was chasing or batting first. Amla took very few innings to score most of his ODI centuries and that too without showing too much arrogance in shot making. Most of the ODI hundreds scored by Amla were the quickest in terms of innings and a few of them were broken only by Virat Kohli. He was also highly successful in tests and T20s.
Earlier the likes of Mark Waugh, Rahul Dravid, Damien Martin, Aravinda de Silva etc were so elegant to watch without being power hitters and technically correct but in an era when the bat dominated ball, Amla took on bowlers and was highly productive in shot making without being a power hitter. His wrist work and timing were too good against any bowling attack.
It was really tough for any player to be an ODI opener of the Proteas team since they always had very good players who opened the batting and delivered most of the times. I think Amla started opening in ODIs for the Proteas during the latter part of Herschelle Gibbs' career and it was a very tough job for any player in that position, but he did it wonderfully. But like many great Proteas players, Amla too retired without being a part of a team that could not win any major and ICC tournament titles. I still believe he had so much to offer to the South African team though his form had faded recently.
Written on August 20, 2019.